With our app for iPhone and iPad, you'll enjoy a guide to news and ideas that adapts to your day, along with a beautiful design and ad-free articles.
The Atlantic app is available in Apple's App Store and works on devices running iOS 13. The app is free to download, and the new "Today" screen is free to browse, but you must have an Atlantic subscription to access articles and download magazine issues. You can purchase a subscription on TheAtlantic.com or directly within the app.
Setting up your subscriber-only access
If you've purchased a subscription via The Atlantic or the App Store, you can read unlimited articles on the app and website. To unlock your access, just connect your subscription in the Settings tab of the Atlantic app.
If you have an online account with The Atlantic, tap the "Settings" tab, then "Sign In" and enter the email address and password associated with your account.
If you haven't set up an online account, you can create one in the app. Go to "Settings" > "Sign in." You will be prompted to create an account.
Once you've done so, tap "Link My Subscription" in the "Settings" page and enter your account number.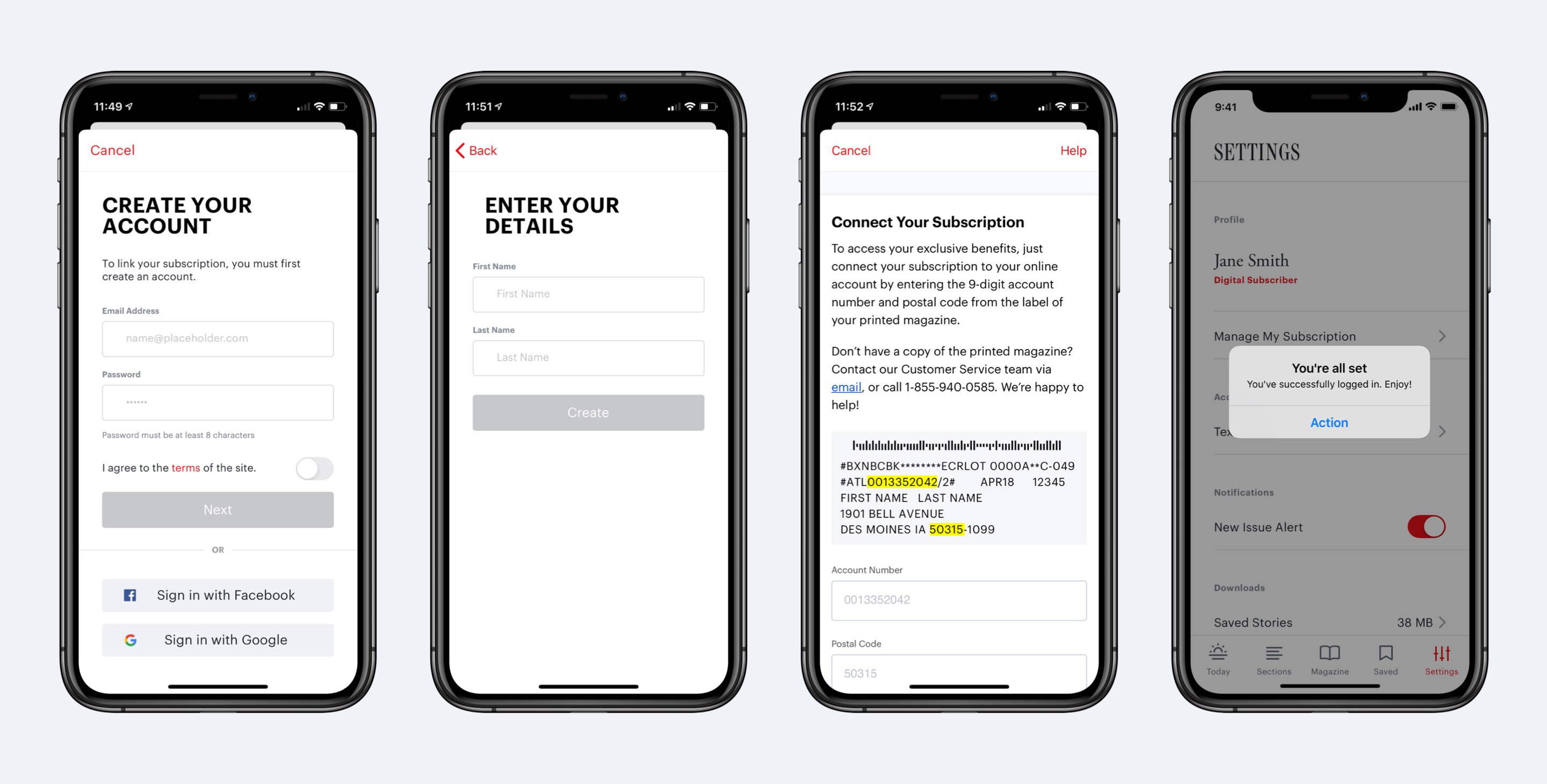 (Note: This is an example label. Please don't use this account number or postal code when connecting your own subscription.)
If you're having trouble with a postal code from outside the United States, or if you do not have a postal code in your delivery address, please contact us for assistance.
Restoring your iTunes Purchase
If you've purchased a subscription via the App Store, you can restore your purchase in the app by tapping the "Settings" tab, then "Restore Purchase." You will be asked to enter the password associated with your Apple ID.
Purchasing an Atlantic Subscription
Subscribers enjoy unlimited access to all of The Atlantic's journalism, in the app and on the web.
When you purchase a subscription from The Atlantic, you'll receive benefits not included in an iOS subscription. Along with full digital access, Print & Digital subscribers additionally receive a year of the print edition and exclusive journalism from our newsroom. Premium subscribers enjoy all Print & Digital benefits, plus ad-free web browsing and podcasts, a free digital gift subscription, and more.
You can also purchase a subscription from the Apple App Store. You'll automatically receive two free weeks of app access. You can begin your trial by tapping the "Settings" tab, then "Subscribe." You will not be charged until two weeks from the trial start date. Payment will be charged to your Apple account.
Please note that if you purchase your subscription via the Apple App Store, you must cancel through Apple. We do not have the ability to cancel iOS subscriptions on a customer's behalf.